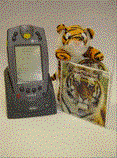 Inventory management, file and document tracking system - bar code technology that's easy-to-use. You could spend weeks or even months evaluating all of the inventory control solutions out there. Maybe you'd find the "right" solution, and spend thousands of dollars on integration and customization, only to find out that it's missing a critical feature or doesn't support the way you do business.

And good luck getting a real person on the phone to answer technical questions and provide support.

There is a better way. Data ID Systems can put you on the fast track to getting your inventory under control, cutting operating expenses, and reducing waste and lost opportunities.
Manage your items, inventory, tools and more with TigerEYES Check Out/Check In Manager©! Get up-to-the-minute information on the location of your items, inventory, equipment, files and documents. Tracking down where an item is has never been easier. Shows an accurate history of item usage. These reports save you time determining what items should be liquidated. TigerEYES™ is perfect for any company that strives to make the most of its resources: people and equipment ... time and money.

Whether you need to track records, tools, tool rooms, stockrooms, or other items, TigerEYES Check Out/Check In Manager© is a Windows program that keeps track of who has the items, where the items are, and when they are expected back. Using bar codes for the items and the borrowers insures speed and accuracy.

A cost-effective solution for managing your tools, books, test equipment, and more...

The TigerEYES™ System uses a Microsoft Access database combined with state-of-the-art bar code readers, both configured with TigerEYES™ software. The fastest way to track your valuable tool inventory! Take advantage of this robust application which lets you assign items to employees, jobs and/or locations. A rich variety of reports allows you to see what inventory is readily available, due today, overdue, or just checked out. Reports let you select a borrower, item, job and/or location. No programming is required with TigerEYES™ and Access database.

Do you keep your items in a controlled area?

The pick list option lets users print a request list of items ready for your operator to locate. You benefit by reducing tool theft, loss and misuse by tracking item based on item, user, or item class.

TigerEYES™ ability to read bar codes provides the accuracy, speed, and ease of use necessary for improved inventory control. With the fully integrated TigerEYES™ system, you can begin tracking your tools and inventory within minutes. Order today and start managing your gear tomorrow! Want more information about this product? Get in touch with Data ID Systems today... Experience a new level of service, expertise and commitment.
Key Features
TigerEYES is an easy-to-use Windows application.
Includes bar code reading capability providing fast, error-free data collection.
Developed with Microsoft Access.
Provides everything you need to manage your tools within minutes.
TigerEYES offers the latest technology at an attractive price.
Benefits
Quickly and easily track materials and equipment out on loan.
Integration - A wide variety of import and export file formats in Access allows easy integration with other systems.
Accuracy - bar code data collection virtually eliminates data input errors.
Speed - bar code data collection speeds up inventory process by 300% or more.