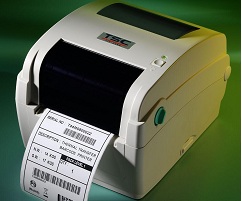 Key Features
Space-saving design
Fast 200 MHz processor
4 MB Flash and 8 MB SDRAM memory, with an SD card expansion slot for up to 4 GB
High quality double-walled clamshell design
Easy ribbon and media loading
Durability and reliability
Internal Ethernet, USB 2.0, serial, and parallel interfaces
Fully adjustable sensors
Powerful TSPL-EZ™ firmware: file manager, BASIC programming, stand-alone programming
Desktop Bar Code Printer

TTP-245C Series

The high-performance printer with a small footprint

The TSC™ TTP-245C series of desktop thermal bar code printers, with its new, smaller footprint, offers the high performance that customers have come to expect from TSC™. Durable, reliable and fast, the TTP-245C generates 4-inch-wide labels, tags or receipts at up to 6 ips, offering a price-performance combination that is unmatched by other desktop thermal bar code printers on the market.

The TTP-245C incorporates a 200 MHz 32-bit processor that offers fast "first label out" throughput, with no between-label delays, even when using its internally scalable True Type fonts. Using its standard internal Ethernet port, the TTP-245C can be quickly integrated with any network.

The TTP-245C's easy-to-use design speeds up ribbon and media loading. And with the smallest footprint ever for a TCS 4-inch desktop printer, the TTP-245C series easily fits into cramped workspaces.

TTP-245C series includes the TTP-343C and TTP-244CE printers. The TTP-343C offers 300 dpi resolution and is ideal for 2-D bar codes, fine text and complex graphics. The basic model TTP-244CE, the lowest-priced of the three printers, offers an extensive suite of bar code labeling features, including 4 ips speed and a standard USB 2.0 interface.