Visiting Los Gatos in the heart of Silicon Valley
Silicon Valley offers plenty of cultural, educational and outdoor activities as well as collegiate and professional sports. These links will give you a feel for our community.
around town

Silicon Valley Almanack Transit Guide. How to get around the valley by foot, bike, bus, train or car.
Bay Area Transit Information . Complete information on South Bay transit agencies, routes, fares and services.
Santa Clara Valley Transportation Authority . Bus, light rail and historic trolley information for the bay area.
Caltrain . Train service from San Jose to San Francisco, Peninsula and South County.
Interact San Jose - Transportation . Train, trolly and bus information for the bay area.
RIDES for Bay Area Commuters . Carpool, vanpool and bike from here to there anywhere in San Jose.
Rental Car Guide . Major company rates, discounts and online reservations from San Jose.
San Jose International Airport . Airlines serving San Jose, parking info. and phone numbers.
Weather Watch . Today's weather in San Jose, plus the five day forecast from KNTV.
Yahoo! Maps & Mapquest . Map of San Jose, plus driving directions and a business locater.

hotels

Places to Stay by the Bay . San Jose hotels, B&Bs, inns and resorts offering secure online reservations.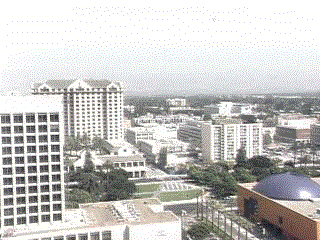 California Bed & Breakfast Inns . A complete listing of California B&Bs, including San Jose.
National Hotel Directory . Hotels in the area, including rates and maps.
Travel Now - San Jose Hotels . Real-time pricing, availability and online reservations for San Jose accommodations.
Travel Now - Los Gatos Hotels . Real-time pricing, availability and online reservations for Los Gatos accommodations.
views

The Tech's New Home . Images charting the construction progress of the Tech Museum's new home in downtown San Jose.
San Jose City Cam . Picture of downtown San Jose taken from atop the Heritage Bank Building courtesy of KNTV.
---
Copyright ©1997-2003 Data Identification Systems All Rights Reserved