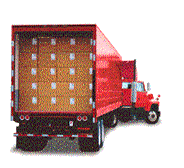 TRACK SHIPMENTS QUICKLY!
You can track your packages with an inexpensive palm computer equipped with a bar code scanner and a roll of serialized bar code labels. The driver puts a label on each package at the pickup location and scans it to enter the information. The same bar code is scanned at the delivery location, the accepting signature is captured with the receiving location. The driver can query for inventory of packages on board, pickups or deliveries. Back at the office, download all the information from that driver's day into the office PC. The dispatcher can quickly learn the shipment status, delivery date, time and recipient's name.
EACH TRANSACTION IS DATE AND TIME STAMPED FOR ADDED CONTROL AND EFFICIENCY!
Know when and where your driver made each transaction. Control and schedule overtime and allocate your resources better.
CREATE STATUS REPORTS, EXCEPTION REPORTS, MANAGEMENT REPORTS -- CUSTOM MADE FOR YOUR REQUIREMENTS!
The Data ID Package Tracker© has an application tailored for your business. This highly efficient operating system enables hand-held applications to off-load functionality to the desktop, or host computer, that serves as the backbone for such tasks as data synchronization, information access and archiving. Printing capabilities are supported from the desktop as well as from the serial and infrared port on the device.

The system works with MS Access to create spread sheets and manipulate the data in practically any way you want. If you are a computer whiz, you will love it for creating your own reports, if you're not a whiz, you will love the fact that it incorporates the standard reports you will need. The result is an enabling technology that provides users with the ability to capture and manage information with unparalleled ease and functionality in a familiar and popular form factor.
The Package Tracker© features superior ergonomics and pocket-sized design, physical buttons for navigation and scanning, one-touch data synchronization with host or network and pen input with intuitive graphical interface.