Datamax XL Printer from Data ID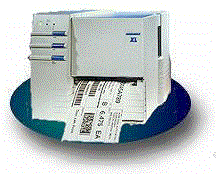 For bar code labeling applications that require fast label throughput from a compact, reliable printer, Datamax offers the XL.
The Datamax XL is designed for ease-of-use and ease of adjustment to provide greater productivity in a variety of applications. With a 32-bit microprocessor and a print speed of up to 6 inches per second, the XL is one of the fastest 4" printers in its class. These features, coupled with the XL's rugged, compact design provide a flexible, economical solution to all of your bar code printing needs.
Options include: thermal transfer, cutter with tray, external rewind, metal cabinetry and FLASH memory upgrade.
The Datamax XL Features:
Faster Label Throughput - at 6 inches (152mm) per second, the XL is one of the fastest bar code label, ticket and tag printers available.
Rugged, Reliable and Compact -Durable and tough, in fact, the Datamax XL is constructed of 85% metal, Most competitive models are made of plastic. This design makes the XL ideal for demanding industrial applications, all in a compact, flexible design.
Easy to Use - Designed for simple adjustment and operation to meet a wide variety of application requirements with increased productivity.
Loaded with Features - The XL offers standard serial and parallel ports, as well as a standard internal rewind and present sensor.
The Datamax XL provides reliability, high performance and quality features at an affordable price.
---
SPECIFICATIONS

PRINTER TYPE

Direct Thermal, Optional Thermal Transfer

PRINT SPEED

2" - 6" per second (5lmm- 152mm)

RESOLUTION

203 dpi (8 dots/mm)

BAR CODE MODULUS

5 mil to 110 mil "X" dimension in picket fence or ladder orientations

MAXIMUM PRINT WIDTH

4.1" (l04mm)

MEDIA WIDTH

1" -4.65" (25mm- 118mm)

PRINT LENGTH

.5" - 99" (13mm - 2515mm) 1" (25mm) minimum print length with optional present sensor

MEDIA WINDOW

Clear side door panel to easily monitor media supply levels

MEDIA TYPE

Roll-fed or fan-fold materials, die-cut or continuous labels; perforated or continuous tag/ticket stock

MEDIA THICKNESS

.0025" - .0100" (.0635mm - .254mm)

MEDIA SENSING

"See through" for liner-backed die-cut labels and tags; left bias reflective sensor for media with black stripe sensing

PRESENT SENSOR

Used for on-demand label dispensing

INTERNAL REWIND

3" (103mm) OD capacity; label backing rewound in peel and present mode and liner rewound in batch mode with present sensor used for on-demand label dispensing (factory installed)

SUPPLY ROLL

8" (203mm) maximum diameter on 1.5" - 3" (38mm-76mm) core. Fan-fold stock accepted from rear of printer

LABEL BACKFEED

For use with optional cutter

RIBBONS

Industry standard ribbon widths; 1" (25mm) ribbon core, 1182' (360M) in length

CABINET

Plastic construction; optional metal

BAR CODES

Code 39, Interleaved 2 of 5, Code 128 (subsets A, B and C), Codabar, LOGMARS, UPC-A, UPC-E, UPC 2 & 5 digit addendums, EAN-8, EAN-13, EAN 2 & 5 digit addendums, UPC random weight, Code 93, MSI Plessey, Universal Shipping Container Symbology, UCC/EAN Code 128, Postnet, Code 128 MOD 43, PDF 417

RESIDENT FONTS

Nine alphanumeric fonts from .035" (.89mm) to .64" (16.26mm) and OCR-A, OCR-B, CG TriumvirateTM from AGFA® in both portrait and landscape orientations (from 6 point to 36 point)

CHARACTER SET

Modified IBM® Code Page 850; includes characters for English and most European, Scandinavian and Spanish speaking countries

FONT EXPANSION/ROTATION

All fonts expandable vertically and horizontally up to 24x; fonts and graphics can be printed in four directions: 0º, 90º, 180º and 270º

GRAPHICS SUPPORT

.PCX, .BMP and .IMG files

REVERSE FIELDS/MIRROR IMAGE

Any font or graphic field can be printed as a normal or reverse image

TIME AND DATE

Standard

MEMORY MODULE SLOT

One side panel slot holds optional FLASH module

BUILT-IN ROM

Up to 4MB

INTERNAL BATCH

Stand-alone label creation capability for Wyse 50 or compatible type terminals

BUILT-IN DRAM

4MB

INTERFACES

Centronics® Parallel port, RS232 at 300 to 38,400 BPS, optional RS422

POWER SOURCE

115, 230 VAC 50/60Hz available; specify when ordering

OPERATING TEMPERATURE

40º F to 95º F (4º C to 35º C)

DIMENSIONS

8.8" (224mm)H x 9.5" (241mm)W x 16.6" (422mm)D

WEIGHT

23lbs (10.4kg), metal 27lbs (12.3kg)
---
Options

THERMAL TRANSFER

Factory installed

CUTTER WITH TRAY

Maximum Thickness 010" (.254mm)

EXTERNAL REWIND

8" (203mm) maximum OD capacity (full supply roll)

KANJI KIT

Allows printing of Kanji (Japanese character set)

FLASH CARTRIDGES

Used for permanent storage of custom fonts, formats and graphics. 256K, 512K, 1MB, 2MB

METAL CABINET

Sturdy metal cabinet for harsh, industrial environments

WINDOWS DRIVER

Used for creating label formats using virtually any windows-based program.

PASSPORT

Portable keyboard/display terminal provides interface for stand-alone printing

SCALABLE FONTS

CG Triumvirate Italic, CG Triumvirate Bold, Futura® Extra Bold Condensed, CG TimesTM, CG Times Bold; others available directly from AGFA

NETWORK CONNECTIVITY

Micro Print Server allows multiple users on various platforms to share the same printer.

Hosts Supported:
Novell Netware
UNIX
Windows NT
LAN Manager
DEC
Protocols Supported:
IPX
TCP/IP
LAT
NetBIOS/NetBEUI
ILPC FIRMWARE

International Language Print Capabilities firmware allows printing of non-English character sets in over 40 languages

AGENCY LISTINGS

Built to UL, CSA and TUV-GS safety standards, FCC Class A emissions standard and CE Mark
This data sheet is for informational purposes only. DATAMAX MAKES NO WARRANTIES, EXPRESSED OR IMPLIED, IN THIS SUMMARY. Specifications are subject to change without notice. All trademarks are the property of their respective owners.
---
Copyright ©1997, 1998, 1999 Data Identification Systems All Rights Reserved

Last modified: March 21, 2006