Microscan products are designed to read fast moving labels in automated manufacturing applications such as printed circuit board production and electronic component manufacturing.
Quadrus™ is a fully integrated 2D code reader including optics, lighting, and decoder in one compact package. It is the ideal reader to use with space restricted items such as printed circuit boards and semiconductor chips that are laser etched or labeled with Data Matrix symbology.
Recommended products include:
Quadrus 2D code reader

Quadrus is the world's first truly integrated, fixed-mount, 2D code reader. The camera lens, reader/ decoder, and light source is housed in a compact, rugged enclosure. Quadrus is equipped with a state-of-the-art image sensor, microprocessor, and custom lensing. Illumination is provided by an array of 20 high-output LEDS. Quadrus features built in controls (I/Os, matchcode routines, trigger lines, etc).Quadrus utilizes unique "Light Mapping" technology that combines proprietary optical illumination with high-speed image processing - critical to rapidly locating and decoding fast moving matrix labels in automated applications such as pharmaceutical packaging, printed circuit board production, electronic component manufacturing, document handling, clinical/diagnostic applications, and automated tape libraries.
Fully Integrated Lighting:
Traditional 2D code systems are typically made up of separate components including camera, reader, decoder, and light sources. By contrast, the Quadrus combines all of these components in one compact, industrialized, fully-sealed enclosure.

MS-710

The MS-710 offers the ultimate in adjustable, accurate, high-speed scanning. This exceptionally compact scanner is ideal for fast-moving bar code label scanning. Its spinning, 10-sided mirror projects a laser beam at a 60 degree scan angle, up to 8 inches wide. The MS-710 gives you the flexibility to scan a variety of label qualities and densities by way of its embedded firmware which allows operators to program scanning rates from 300 to 550 scan per second. The MS-710's raster option lets you address even more scanning applications. Using tilting mirror facets, which deliver 10 scan lines over a 2 degree arc, you can achieve greater flexibility with label placement. The MS-710 is the scanner of choice for use in pharmaceutical packaging, automated manufacturing, and office automation.

MS-850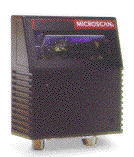 The MS-850 boasts of customer driven features. Foremost, its IP65 rated, heavy-duty, die-cast aluminum case and locking connectors ensure protection from extreme environmental conditions. This 16-ounce industrial raster scanner reliably scans multiple labels-and multiple symbologies-simultaneously at a user-adjustable rate between 350 and 1150 scan per second. The MS-850's programmable raster module allows further adjustments to both raster sweep angle and speed, providing the flexibility to scan a variety of label qualities and densities. Build-in mounting holes in the bottom and top the scanner allow the MS-850 to be quickly mounted to any flat surface. The MS-850 is ideal for any industry using linear and/or PDF417 labels in high speed and/or industrial environments. It is particularly well suited for packaging, electronics manufacturing, automotive manufacturing, and factory automation applications.
---
Copyright ©1997 - 2002 Data Identification Systems All Rights Reserved

Last modified: March 21, 2006