Intermec Technologies Corporation markets a complete line of data collection hardware, network devices, mobile computers, bar code printers and label supplies, and support their offering with a worldwide sales and service network that includes Data ID Systems, one of the nation's leading software integration partners.
Data Capture Input Devices & Wedges
We produce a wide variety of data collection equipment, including wands, badge scanners, imagers, charge coupled devices (CCDs), laser scanner and wedges.
Intermec Printers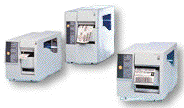 Intermec barcode direct thermal/thermal transfer printer categories support light duty and specialty applications, as well as those for the most rugged environments.
---
EasyCoder 3400 Direct Thermal/ Thermal Transfer Industrial Bar Code Printer

The 3400 is a value-priced, industrial printer designed for distributed printing. Choose this rugged printer for shipping and receiving, inventory control, specimen or file tracking, and other applications requiring multiple print stations. The 3400 printer features metal construction with enclosed media supply for protection against dirt and dust. It includes a bolt down feature for extra security and stability. With quality 203 DPI output in any bar code rotation, the 3400 printer features user-selectable print speeds of 2, 3, 4 and 5 IPS.
The 3400 printer is compatible with Intermec's printer family and includes PrintSet™, a Windows®-based printer configuration and installation tool.
---
EasyCoder 3440 Direct Thermal/ Thermal Transfer High Resolution Bar Code Printer

This extremely high-resolution 406 DPI printer delivers the sharpest fonts and most precise graphics in the industry. Printing bar codes that exactly match industry standards means better bar code scannability.
The 3440 features a 32-bit advanced Intel® micro-processor working in combination with IPL2 to provide very high label throughput. This means that the operator has very little time to wait for their labels to be printed. Labels up to 4.5" wide (4.4" print width) may be printed using user-selectable print speeds of 3, 4, or 5 IPS.
The 3440 provides the capability to print large labels for use as the replacements for preprinted labels. Replacing preprinted labels saves time and money by eliminating the necessity of maintaining diverse label inventories. Suggested applications include: end product marking, shipping and receiving, shelf and bin marking, and inventory control. It also includes PrintSet™, a Windows®-based printer configuration and installation tool.
---
Copyright ©1997 - 2002 Data Identification Systems All Rights Reserved

Last modified: March 21, 2006