Complete integration with third party software packages
For the most demanding label production & systems integration applications

LabelSelect Select a specific item, order or customer # from your database, LabelSelect automatically opens the correct label format in appropriate data fields. All without custom programming. Labels and Ribbons
Save time, eliminate errors and vendor charge - backs.
DataWatch Allows your RF, host or PC application to add records to a file, ODBC source or database. DataWatch automatically prints appropriate labels; instantly. The easiest way ever to print bar codes from Radio Frequency or batch data collection applications.
TrueType Fonts: TrueType fonts can be added to any Windows printer as well as any thermal/thermal transfer printer driver included with LabelView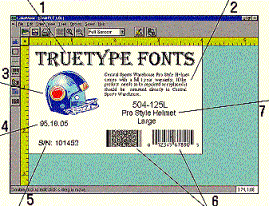 Visual Basic Builder Custom 'Front End' - Visual Basic built in: LabelView can export any label design screen to Visual Basic with one click of the mouse. This automatically creates a VB 4.0/5.0 form, to simplify the process of customizing "when printed" data entry screens with enhanced logic, large boxes and more. Click PRINT to automatically send the DDE commands to LabelView - without DDE programming.
DDE Link to hundreds of applications that support Dynamic Data Exchange (DDE), such as Visual Basic, Delphi, C, C++. Design custom screens, entry boxes, controls and more using the power of DDE. Faster and more efficient than ODBC links.
AS/400, UNIX, & Host Integration Printing to any bar code or windows printer from an AS/400, mainframe, UNIX or host is simple and fast. The host can send a flat file -- either fixed length, "common delimited" text, dBase, or one of several command file formats. This is ideal for batch or RF terminal applications. LabelView will then print to any printer; even different brands and models; easily add graphics or 2D bar codes that are almost impossible to generate from legacy systems.
ComWatch Configure LabelView to link to weigh scales, bar code scanners, shop-floor controllers, counters or other devices. Receive, format and use data from these sources instantly to put data into labels without keying.