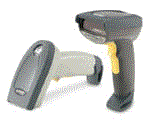 Symbol LS4008i Scanners NEW & IMPROVED!
Versatile, High-Performance Handheld Scanner
Based on the highly successful LS4000 Series platform from Symbol Technologies, the LS4008i showcases our experience in the design of innovative, high performance scanning solutions. All LS4008i's come wired with on board Keyboard Wedge, RS-232, and USB interfaces, allowing for easy, and cost effective, cable switching. The LS4008i combines superior bar code scanning performance and flexible host connectivity with maximum user comfort at a highly attractive price. All units feature Symbol's 5 year warranty.
The LS 4008i scan line is visible even in bright light, so aiming is simple. A wide working range—from contact out to more than 19 in./48 cm on 100% UPC symbols—makes the LS 4008i ideal for a wide variety of applications. Adaptive Logic Signal Processing decodes even poorly printed or damaged bar codes so there is no impact on productivity or throughput. And it even ships ready to read emerging Reduced Space Symbology (RSS) and Composite Codes—so your hardware investment is "futureproofed".

Flexible Host Connectivity

The LS 4008i ensures connectivity to virtually any host with universal cabling and multiple onboard interfaces, including USB, RS-232C, IBM468X/9X, Keyboard Wedge, Wand and Synapse. Advanced Data Formatting (ADF) capabilities allow scanned data to be modified prior to transfer, ensuring compatibility with the application on the host system.

Ergonomic Design

Symbol knows that ergonomics are just as important as scanner performance—so the rugged LS 4008i is packed with features designed to enhance operability. The LS 4008i is lightweight to maximize user comfort, with a handle optimized to fit comfortably into hands of all sizes. The patented two-finger trigger reduces finger fatigue—even over extended periods of use. A hands-free Intellistand enables the convenience of presentation scanning for increased throughput. LS 4008i scanners feature a large, bright two-color LED plus a beeper with adjustable volume for audible confirmation of good decodes. An over molded rubber "chin" and "foot" achieve dual functionality of absorbing shock and raising the scanner off the counter for easy pickup and placement

The Mark of a Top Performer—Application Versatility

The LS 4008i offers a complete scanning and on-board connectivity set, making it the perfect scanner for a wide variety of retail and commercial applications—from small neighborhood businesses to major retailers and corporations. LS 4008i scanners can be used anywhere where efficiency needs to be improved through the use of bar code data capture. In retail environments, the LS 4008i is ideal for applications such as point-of-sale scanning, price markdowns and verifications, and in-store inventory management for warehouse clubs, mass merchandisers, and department, grocery, and specialty stores. In warehouse and manufacturing environments, the LS 4008i improves productivity and accuracy in shipping and receiving by streamlining inventory management, assembly lines and document tracking processes. And the healthcare industry benefits from more efficient tracking of patient information, management of medical inventory, and more. .