K2724 & KP2724 Keyboards with Magnetic Stripe Reader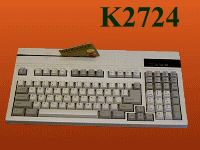 The K2724 and KP2724 models offer the user a full 101/102 key keyboard suitable for any application. They feature a compact, spill resistant design The integrated magnetic stripe reader and scanner port give them true POS compatibility at an attractive price.
Key Benefits
IBM AT, PS/2 101/102 key design
21 relegendable keys
Spill resistant design
Membrane key switch with 20 million life cycle and tactile feedback
Integrated Magnetic Stripe Reader with Track I or II (ISO 7811 standard), optional triple track MSR or barcode slot reader available
Built-in barcode decoder accepts wand, CCD, laser scanner, or RS232 input
KP2724 only
90 relegendable keys
24 macros keys of up to 32 characters each.
All keys are remappable
Three programming methods (Windows, DOS and direct)
---
K22 Numeric Keypad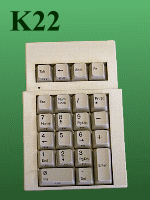 The model K22 is a compact, 22-key numeric keypad designed to work as a stand-alone input device , or as an external numeric keypad for notebook computers. It is available with a serial RS232 or standard AT keyboard interface. It is the ideal secondary input device for our MR320 stationary terminal.
Key Benefits
RS232 serial or AT compatible interface
Small footprint (6.22" x 4.25")
Cherry key switch with tactile click feedback
Auto-repeat
Double shot molded step sculpture keytop
2 key roll over
50 million life cycle switch
No external power supply needed
---
K500 Mini Keyboard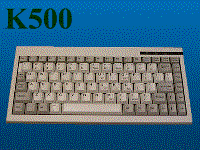 The K500 is a compact-size, 85/86 key keyboard with embedded numeric keypad which is ideal for basic point-of-sale systems. Its small footprint makes it an excellent choice whenever space is a valuable asset.
Key Benefits
85/86 keys with embedded numeric keypad
IBM AT PS/2 compatible
Space saving design (11.3" x 5.51")
Membrane key switch with tactile feedback
20 million life cycle switch
Gray keyboard available for OEM
---
Copyright ©1997 - 2002 Data Identification Systems All Rights Reserved

Last modified: March 21, 2006