Bar Code Verifiers from PSC
The QuickScan 6000 Plus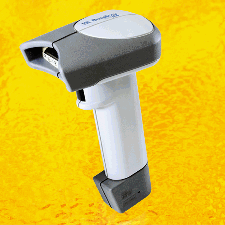 Great Performance is now even Better!
The QuickScan 6000 Plus™ handheld scanner offers great performance at a very affordable price. With a high first pass read rate and the best speed-to-read of any scanner in its class, the QS6000 Plus speeds retail checkout. And its 13" (33 cm) depth of field with 100% UPC labels extends the user's working range.
With a high visibility option, utilizing a 650nm laser diode, the user can target and read bar codes even in bright light conditions due to the scanner's inherent tolerance of high ambient light conditions. Plus, PSC's advanced electronics perform well even when reading low contrast labels with poor edge definition.
Hardened for Tough Store Environments
The QS6000 Plus scanner incorporates the most advanced, high durability features available today. The reading engine and optics are protected by anti-shock mounts built to absorb up to 1500 Gs. In fact, the QS6000 Plus can withstand repeated five-foot (152 cm) drops to concrete.
The QS6000 Plus also features a strong, plastic enclosure that guards against liquid and dust infiltration. A tough, rubber-like shield cushions the scanner when dropped, protects the scan window from being scratched and prevents the scanner from slipping off counter surfaces. The coiled cable, with strain relief and end cap, is made from rugged, tear-resistant polyurethane and retains its' memory after repeated flexing and stretching.
Lightweight & Ergonomic For Maximum Scanning Comfort & Productivity
The QuickScan 6000 Plus scanner was developed with operator comfort in mind -- a critical factor that ensures prolonged operator productivity. The weight of its evenly balanced design can be held easily in any size hand, even for extended periods of use. The positive response trigger provides tactile feedback when pressed, yet allows the operator's index finger to relax comfortably between scans. When resting on a horizontal surface, in a stand, or in a belt holster, the handle is quickly and easily grasped for "scoop and scan" simplicity.
Connectivity For Any Environment
Support for all popular POS interfaces and keyboard wedges is standard. The QS6000 Plus reads all major bar code symbologies, auto-discriminating between codes. Full support is also included for the UPC/EAN family, add-ons and other types of code extensions.
The QuickScan 6000 Plus: An Outstanding Value With the QS6000 Plus scanner, there's no need to make trade-offs between quality and affordability. High-end performance, advanced ergonomic design, enhanced durability -- the combination of these features in the QS6000 Plus adds up to one of the best values in the industry.
Key Benefits
Low power consumption
AutoSense® stand for hands-free operation
Dual interfaces with AutoSelect™
Optional EAS antenna for simultaneous scanning and security tag deactivation
Universal wedge for additional keyboard emulation, bar code symbologies and data editing
---
5310HP Bar Code Scanner

Features/Benefits 
High Performance Scanner.
Enhanced depth of field - contact to 40 inches (1 m).
New standard for reliability and durability - 5 ft (1.5 m) drop onto concrete.
Aggressive scanning of "Real World" bar code labels - contact to 13 inches (33 cm) on 100% U.P.C. labels.
Hands-free or hand-held in one scanner - AUTOSENSE® feature and AutoStand option.
Small profile and light weight - 7.5 ounces (210 g) - pick it up and try it!
Free holder with every scanner.
Shock absorbing rubber scanner boot available for greater protection.
---
Copyright ©1997 - 2002 Data Identification Systems All Rights Reserved

Last modified: March 21, 2006