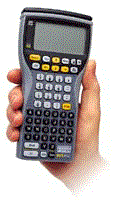 Workabout
The Psion Workabout mx is the second generation of products born from the highly successful Workabout range of handheld computers. Rugged, lightweight and powerful, the Workabout mx is suitable for a wide range of applications in commerce and industry. Its fast processing speed and excellent communication capabilities mean the Workabout mx can handle complex data capture and transfer tasks with ease.
Large (2MB) and expandable memory
Fast processing and communication speed
IrDA communication ports (optional)
Powerful 16-bit multi-tasking GUI
Ergonomic and light weight design
Visual Basic compatible programming language
High Specification
The Workabout mx is a high performance, yet low cost handheld computer designed for use in all types of environments. With its 16-bit processor and multi-tasking operating system the Workabout mx is able to handle complex processing and programming tasks simultaneously. Supplied with 2 Mbytes of RAM, there is provision for adding two Solid State Disks that can offer an additional 16Mbytes of memory; enough memory for even the most complex applications.
Faster Processing
The Workabout mx features a faster processor than on previous models. This makes it up to three times quicker to retrieve and update information on the Workabout mx.
Contact-less Communications and Printing
With a choice of up to two IrDA ports fitted in the base and the top of the Workabout mx, communication with any IrDA device, such as a belt mounted printer, is easy and cable-free. The top port is perfect for file transfer and can be used to effortlessly transfer information to an IrDA enabled PC running appropriate software.
Rugged Construction and Ergonomically Designed
The Workabout has been designed to be easy to hold, light weight, and strong enough to withstand considerable wear and tear as well as environmental extremities. With an IP54 rating the Workabout is spray and dust proof in all directions and is capable of withstanding a drop of one metre onto concrete.
Visual Basic Compatible Programming Language
An important feature of the Workabout is its integral Visual Basic compatible programming language OVAL (Object-based Visual Application Language), which has been developed by Psion. This Rapid Application Development environment enables developers to write and prototype high quality customer tailored programs quickly and easily.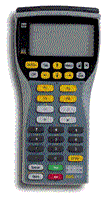 Range of Options
The standard Workabout mx range includes a number of alternative models to suit different applications.
Options include models with:
RS232, TTL , Barcode and IrDA ports
Numeric keyboard option that has enlarged numeric keys for easier data collection.
Workabout Wand with an integrated barcode wand
Workabout Scanner with an integrated laser scanner
The Workabout mx is also supported by a range of peripherals for simplifying the task of transferring data, for printing data and for intelligent battery management.
---
Copyright ©1997 - 2002 Data Identification Systems All Rights Reserved

Last modified: June 11, 2003