Web Specials:

Down Load Demo
The Fastest, Easiest Way to Design Professional Quality Labels

The BarTender for Windows delivers on-screen WYSIWYG
display and expanded printer support to make custom label
production quick and easy.

Create barcodes, text and graphics with the single click of a mouse button.

Just click again to move an object or resize it.
Because you see on screen exactly what will print out, you
can be sure your labels will print out right the first time.

Best of all, The BarTender for Windows costs hundreds of
dollars less than comparable graphics-based labeling
packages, most of which don't have anywhere near the
flexibility and ease of use of the BarTender.
With the BarTender for Windows What You See Really Is What You Get

Easy to Learn, Easy to Use

With the BarTender for Windows, a few quick mouse motions are all it takes to combine bar codes, text and graphics into sharp looking, professional quality labels. And moving and resizing objects on your labels is as easy as 1, 2, 3. BarTender Label Tutorial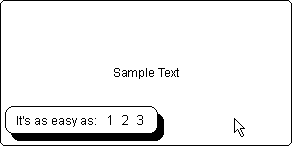 ---
Copyright ©1997-2010 Data Identification Systems All Rights Reserved