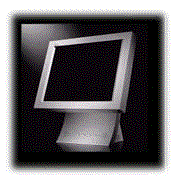 LCD Display
The Viewmagic TFT LCD monitors offer high brightness, high contrast ratio, and distortion free images in a footprint fraction of the equivalent-size regular CRT monitor's. Our TFT LCD monitors also provide low energy consumption, more than 60% less than an equivalent CRT monitor uses, and very low electromagnetic radiation. Designed with user friendly features such as plug-and-play and auto-sizing, and with a standard VGA interface, Viewmagic TFT LCD monitors are the ideal display for teller window of banks, high end POS systems, and desktop applications where space is limited.
12.1 inch TFT LCD Monitor
14.5 inch TFT LCD Monitor
---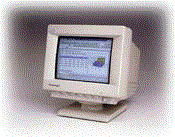 Specialty Display
The Specialty Display monitors are designed for applications where high display quality is a must and space is at a premium, such as POS (Point Of Sales), Teller Station of Banks, ATM Banking machine, Medical Equipments, Industrial Process Control, etc. The Specialty Display is high contrast, high resolution, compact, and small footprint 10-inch color or 9-inch monochrome super VGA monitor.
Every Viewmagic Specialty Display monitor comes with energy saving feature, 110V or 220V AC auto switching, and complies with worldwide major safety regulations, such as UL, CSA, FCC, CE, and TUV. Every Specialty Display monitor, before it leaves the production line, must passed stringent quality tests to meet the highest industrial standard. We understand that you buy our Specialty Display monitor to help you do better business, and we want to make sure our products meet your expectation.
9-inch Monochrome Monitor
10-inch Color Monitor
---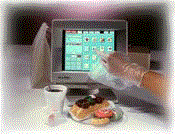 Touchscreen Monitor
Touchscreen is the most intuitive and easy to use user interface in computer technology. From self-service information kiosk to point of sales, there are numerous applications that can benefit very much from the touchscreen technology. Viewmagic offers 10-inch and 14-inch touchscreen monitors at very affordable price.
Viewmagic touchscreen monitors incorporate analog capacitive technology or analog resistive technology, key components supplied by MicroTouch Systems or Elo TouchSystems. All Viewmagic touchscreen monitors are fully integrated and tested, and are ready for immediate use.
10-inch Touchscreen Monitor
14-inch Touchscreen Monitor
---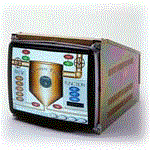 Metal Frame Monitor
Designed for applications in industrial grade cabinet housing, Viewmagic metal frame monitors are built with high reliability, rigid structure, and easy mount chassis. All Viewmagic metal frame monitors come with self-contain power supply, which automatically switch to 110V or 220V AC power input, standard VGA interface, and users-controls. Every Viewmagic metal frame monitors meet all safety regulations required in North America, such as UL, FCC and CSA.
For justified volume, we can even modify the mounting dimension to fit your existing design. Integrated touchscreen, either analog capacitive type or analog resistive type, onto the metal frame monitor is also available.
10-inch Metal Frame Monitor
14-inch Metal Frame Monitor
15-inch Metal Frame Monitor
17-inch Metal Frame Monitor
20-inch Metal Frame Monitor
---
Copyright ©1997 - 2002 Data Identification Systems All Rights Reserved

Last modified: March 21, 2006