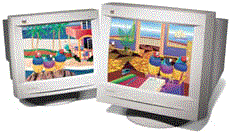 The E2 Series from ViewSonic® are the most affordable monitors available in the market today. As the price/ performance leader, ViewSonic provides an intelligent and affordable alternative to inexpensive, inferior brands. These monitors offer features and performance notably better than those bundled with many computer systems. They offer the quality and reliability the market has come to expect from ViewSonic. The E2 Series monitors are designed with the small business, home office and personal user in mind.
E2® Series
E790 19"(18"viewable)
E773 17" (16"viewable)
E771 17"(16"viewable)
E655 15"(13.8"viewable)
E651 15"(13.7"viewable)
E641 14"(13.2"viewable)
---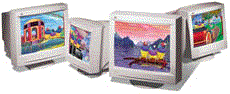 ViewSonic® Graphics Series monitors incorporate features normally found in much more expensive models. They are designed for the mainstream market, where high performance, technology and reasonable pricing come together. These monitors incorporate features normally found in more expensive models, including color matching, high refresh rates and digital controls. With their dazzling images, the Graphics Series monitors are the ideal choice for applications ranging from desktop publishing and computer graphics to full home or small office automation.
Graphics
G810 21"(20"viewable)
G790 19"(18"viewable)
GT775 17"(16"viewable)
G773 17"(16"viewable)
GS771 17"(16"viewable)
G653 15"(14.0"viewable)
---
Copyright ©1997 - 2002 Data Identification Systems All Rights Reserved

Last modified: March 21, 2006