SCANTEAM® 3700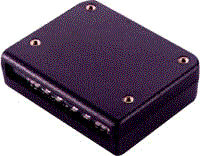 Fixed Mount CCD Bar Code Scanner
Description
The SCANTEAM 3700 fixed mount CCD bar code scanner offers flexible hardware and software for easy integration into many types of equipment. Combining the rugged durability of advanced CCD technology with world class decoding software, the ST3700 provides exceptional performance in a compact form for a variety of bar code applications.
Applications
The ST3700 Series has been designed for integration into equipment that requires bar code reading capability. The ST3700 can operate as a stand-alone sensor providing bar code information as serial data, or it can be incorporated into a PC - based system as a keyboard wedge. Applications include clinical chemistry analysis, point of sale scanning, Automated Teller Machines (ATMs), light duty conveyor scanning, and PC-based custom machinery. Whatever the application, Data ID's design support, strong manufacturing partners and commitment to quality make the ST3700 an excellent choice for your next integration project.
Features and Benefits
Excellent Depth of Field
Longest scan range for a fixed mount CCD
Scan width increases with distance.
Focused illumination for easy aiming.
Internal Decoder with Flash Memory
Decodes up to 12 symbologies.
Easy and fast firmware modifications.
No "chip change" required for future product enhancements.
True RS-232 or PC Wedge communications
Compact Size
Small size provides maximum flexibility and easy integration.
Rugged Design
Long life in the field.
---
Copyright ©1997 - 2002 Data Identification Systems All Rights Reserved

Last modified: March 21, 2006