LS 4208 Readers from Symbol
Durable construction for all day, everyday usage.
The LS 4208 is the next generation of Symbol's best selling LS4000 laser scanner series. Designed to increase efficiencies in scan-intensive operations, the LS 4208 laser handheld scanner accelerates throughput with productivity-enhancing features never before delivered by a single scanner. It offers continuous, one-pass scanning, allowing novice and advanced users alike to process more items more rapidly and spend less time keying in data. With its innovative multi-line rastering scan pattern, the Symbol LS 4208 enables the quick and accurate scanning of all types of one-dimensional (1D) symbologies, including damaged symbols and stacked reduced space symbology (RSS) barcodes. It also provides a wide working range and superior motion tolerance to increase scanning flexibility and performance. Choose from a variety of interfaces, including USB, RS-232 and Keyboard wedge.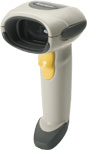 Part Number: 20-70774-01R