Guide to Media and Supplies
Data ID Systems offers a full range of labels, tags, and ribbons. Click here for answers to frequently asked questions about bar code label supplies. Click here to find out how to select labels, tags and ribbons. Follow this link for information on how to select the right bar code solution for you.
Label Printer Supplies

Direct Thermal Labels and Tags
Face materials that are used with direct thermal printers have a special coating that, over time, will darken if the material is exposed to UV or sunlight.
The image is created by a chemical reaction in the coating which is brought on by the heat generated from the printhead coming in contact with the substrate.
Thermal labels come in base weights from 15-50 lbs. (6.8-22.7 kg.) and 40-120 lbs. (18.2-54.6 kg.) for tags. These materials generally have top coating that protects the materials from water, chemicals and ultraviolet light.
Some grades of thermal tags and labels are specifically designed to be read by scanners that read in infrared light range.
The advantage of direct thermal label materials and thermal label printing is high quality printing at lower cost than thermal transfer materials (including ribbons).
Disadvantage of direct thermal label materials is short label life especially when exposed to sun light, ultraviolet light, or heat as well as the limited selection of substrate when compared to thermal transfer substrates. Also, the printheads tend to wear fast because of the contact with the rough surfaces of the thermal papers and tag materials.
Thermal Transfer Labels and Tags
Thermal transfer substrates do not require top coating for the image to be transferred from the ribbon onto the substrate.
Thermal transfer substrates are available with some of the following face sheets:
Uncoated thermal transfer paper
Clay coated thermal transfer paper
High gloss coated paper
Coated Tyvek (synthetic material)
Kimdura (synthetic vinyl)
Thermal transfer substrates are available in the following face sheets:
Polyolefin film
Top coated and non-top coated polyesters
Gloss coated mylar
Polypropylene
Plyethylene
The image is created when the printhead makes contact with a thermal transfer ribbon and releases its pigmenting materials above a certain threshold temperature.
The ribbon is in physical contact with the substrate, resulting in a stable high quality image unaffected by temperature up to 250°F (121 °C) or exposure to ultraviolet light.

The advantages of thermal transfer printing are the variety of label materials that can be printed on, the quality and stability of the printed image both for indoor and outdoor applications, and longer printhead life because the thermal transfer ribbon provides a buffer between the label and the printhead.
Thermal Transfer Ribbons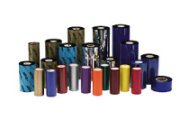 Data ID Systems provides three basic formulas of thermal transfer ribbons, wax, wax/resin and premium resin. Listed below is an explanation of each ribbon type and where the ribbon can be used.
Wax Ribbons
For normal and high speed 4" (102 mm) to 10" (254mm) per second print speed applications
Good edge definition
Good quality rotated bar codes
Good abrasion resistance
Heat resistance of printed image to 100 °F (38 °C)
Good static resistance
Low price
Recommended applications and uses
Coated and uncoated labels and tags
All general purpose labeling
Shipping labels
Carton labeling
Address labels
Retail tags and labels
Print and apply applications
Small character and graphics labels
Wax/Resin Ribbons
For normal and high speed printing up to 10" (254mm) per second
Excellent edge definition
Good quality rotated bar codes
High abrasion resistance
Solvent resistance to petrochemicals and isopropyl alcohol
Heat resistance of printed image to 200 °F (100 °C)
Recommended applications and use
High gloss labels, coated labels and tags, and synthetic labels and tags
High speed print and apply applications
Shelf and bin labeling, materials management labeling, drum labeling, parts marking labeling
Polyester Resin Ribbons
Super high gloss paper labels and synthetic labels (i.e. polyester, kaplon, polyolefin, vinyl, mylar)
Used in extreme environmental applications such as hazardous drum labeling
Used in printed circuit board applications, rating plate labels, engine component labels, labels requiring long life (5-8 years) and all types of outdoor labeling that require durability.
---
Frequently Asked Questions

Q. What types of ribbon are available for thermal printing?

A. Wax, Wax/Resin, Resin

Q. Are color ribbons available for thermal printing?

A. Yes, red, green, blue, yellow and some process colors.

Q. What ribbon is used on paper and tag stocks?

A. General purpose wax ribbon will give you the best print quality and the most scratch resistance.

Q. On light synthetics what ribbon can we use?

A. General purpose resin can be used to get the best print quality and the most scratch resistance.

Q. When printing polyester labels what ribbon can I use?

A. Poly resin ribbons must be used when printing on any shiny vinyl thermal stock.

Q. Why is direct thermal used more than thermal transfer?

A. There is no ribbon is required for this printing process and the cost of each printed label is lower.

Q. Can thermal transfer be printed on any printer?

A. No. The printer must be capable of using a ribbon to print.

Q. Can I print on labels that have my logo or other printing?

A. Yes, you can print on labels that have been pre-printed on a press, as long as there is no printing in the way of the sensor.

Q. What label and ribbon do I use when I need to withstand harsh environment chemicals, such as gasoline, alcohol, UV rays?

A. For such environments, a polyester label and polyester resin ribbon must be used. A polyester label is made up of very strong vinyl, and if the ribbon has a high resin content, you will produce a very durable image, with up to a 5 year outdoor life.

Q. What sizes of ribbon available?

A. Ribbons are available from 1.5" up to 8.66" (38 to 220 mm) and from 91 meters 600 meters long. The size of the ribbon will depend on the type of printer you are using.

Q. What sizes of tags and labels are available?

A. Tags and labels are available from 1" to 8.5" (25 to 216 mm) wide and from 3/8" to 11" (9 to 279 mm) long.
Q.What do I need to know about bar codes?

A. Listed below are characteristics that most bar codes have in common:

Bars and Spaces - Each symbol has a defined pattern of bars and spaces which can be read or scanned by a bar code reader. The width of both bars and spaces vary and allow the representation of different characters. The height of the bars has interpretive information, yet provides data redundancy so that the scanner is not limited to a single scan path.

Character Set - Each bar code symbology has its own defined character set. In some cases, these sets are alphanumeric with additional special characters, while other symbologies only allow for the encodation of the digits 0 through 9.

Human Readable Information - The information encoded in a bar code may be represented in human-readable form below the printed bar code symbol. This human-readable representation is optional with some bar codes while mandatory with others.

Fixed vs. Variable Length - Some bar code symbologies vary in length, contingent upon the amount of information which needs to be represented. Other symbologies have a fixed length and always contain the same amount of encoded information.

"X" Dimension - Each bar code symbol has a defined "X" Dimension, or narrow bar. This bar is measured in thousandths of an inch (or "mils") and directly affect the physical size of bar code.

Modular vs. Binary - With a modular bar code information is encoded using bars and spaces which vary from one to four.
---
Copyright ©1997-2011 Data Identification Systems All Rights Reserved