DATALOGIC GRYPHON D432 2D IMAGER ONLY, RS232/USB/KEYBOARD WEDGE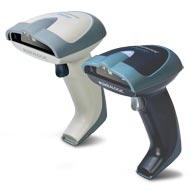 Datalogic now provides 2D barcode reading with its top Hand-Held reader, the Gryphon™. The Gryphon D432 performs omnidirectional reading on a wide range of symbologies from the most common 1D and 2D barcodes to stacked and postal codes, improving productivity and efficiency in a wide range of applications. In fact, with the Gryphon™ 2D, the user captures the whole image of the object to be identified no matter how it is orientated, thus avoiding any alignment constraint between the reader and the barcode to be read.

Furthermore, the Gryphon™ 2D can be used for "image-based" applications such as signature capture and OCR. The software selectable "green spot" feature, (Datalogic patent application) produced by the Gryphon™ provides "good reading" feedback directly on the barcode, where the user usually tends to be looking.

The Gryphon D432 is provided in standard and high-resolution models and is equipped with a multi-standard interface for connection to the host via USB (COM and wedge emulation), RS232 or Keyboard Wedge. The Gryphon™ D432 operates at 5V, eliminating the need of an external power supply. It is also provided with a five year warranty. This, along with Gryphon's™ well known reliability guarantees the customer's investment now and in the future.

The Gryphon D432 supports VisualSetup™ that permits easy configuration of all the parameters to personalize the reader for any application through a RS232 or USB interface, as well as providing a quick view of the downloaded images.

.