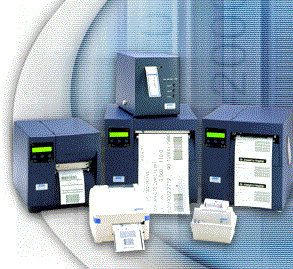 I Class products
Datamax XL Printer from Data ID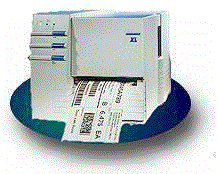 The Datamax XL combines the proven performance and reliability of the popular Allegro and DMX 400 product lines. Utilizing a 32-bit microprocessor, the Datamax XL is one of the fastest printers in its class ... an outstanding, all around choice for most 4-inch printing applications. Data Sheet
The Datamax XL Features:
Faster Label Throughput - at 6 inches (152mm) per second, the XL is one of the fastest bar code label, ticket and tag printers available.
Rugged, Reliable and Compact -Durable and tough, in fact, the Datamax XL is constructed of 85% metal, Most competitive models are made of plastic. This design makes the XL ideal for demanding industrial applications, all in a compact, flexible design.
Easy to Use - Designed for simple adjustment and operation to meet a wide variety of application requirements with increased productivity.
Loaded with Features - The XL offers standard serial and parallel ports, as well as a standard internal rewind and present sensor.
---

Label it with the Prodigy Printer
Combines performance and affordability in a solid metal-cased printer for an array of labeling applications. Data Sheet
The sturdy Prodigy Printer gives you the performance you need in a tough metal-cased thermal label printer without all the high-cost extras. This affordable unit is a solid, dependable performer engineered for a broad range of industrial applications such as work-in-process ticketing, primary product labeling, inventory control and carton marking. A selection of affordable options lets you configure the Prodigy printer to meet your precise needs.
Key Benefits
Direct thermal and thermal transfer
Print Speed: 4 (101mm) per second
Print Resolution: 203 dpi (8 dots/mm)
---

Print it with the Prodigy Plus Printer
More users worldwide have chosen the Prodigy Plus printer than any other thermal printer. This flagship model provides power, versatility, speed and ruggedness. Data Sheet
The industry standard Prodigy Plus printer is the world's most popular thermal transfer bar code label printer. Our flagship model offers power, versatility, speed and ruggedness, making it the ideal choice for either on-demand or batch labeling applications. Datamax's proprietary SEAQ dot history control optimizes image quality with high density rotated bar codes to yield crisp edge definition and ensure scannability. Featuring the same metal cabinet as the rugged Prodigy printer, the Prodigy Plus printer is perfectly suited for tough environments.
Key Benefits
Printer Type: Direct thermal; optional thermal transfer mechanism
Print Speed: 10 (254mm) per second
Print Resolution: 203 dpi (8 dots/mm)
---

Brand it with the Prodigy MAX Printer
Gives you plenty of options, including one you won't find anywhere else: the freedom to configure your printer the way you want. Data Sheet
For demanding bar code labeling applications requiring the ultimate in versatility and performance, choose the Prodigy MAX printer. While other printer manufacturers may offer a limited range of standard configurations, with capabilities and options you may pay for but never need, Datamax makes each Prodigy MAX printer to order. Choose the features you need and Data ID will custom-configure and ship your printer within a matter of days. If your application requirements change, many options may be field installed to ensure that the Prodigy MAX printer will grow with you. Every Prodigy MAX printer features a high powered 32-bit microprocessor to give you more labels in less time -- up to 10 inches per second -- plus a rugged steel cabinet that shields the printer and media, ensuring continuous quality operation, even in the most demanding environments.
Key Benefits
Direct thermal; optional thermal transfer mechanism
Print Speed: 10 (254mm) per second
Print Resolution: 203 dpi (8 dots/mm)
---
DMX PE42 Applicator Print Engine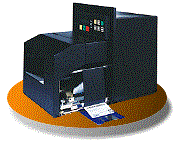 A rugged direct thermal/thermal transfer print engine developed exclusively for print-and-apply device OEMs. Bolt compatible with existing configurations for easy "plug and play" integration with automatic label applicator systems. Data Sheet
---
The first in a series of industrial thermal printers
The Titan 6200, the first in a series of industrial thermal printers from Datamax, sets new standards for the value-priced, 6 inch wide web thermal printer market. Extremely rugged, the Titan 6200 delivers the highest level of performance to meet your most demanding printing requirements. In addition, the Titan 6200 brings to market a host of new features and options including a standard front panel LCD and 5 button keypad, PC-Card Interface for easier memory expansion, and versatile RS232 serial and Centronics® parallel interface. The Titan 6200 also features a 3-stage split ribbon hub designed to improve tension consistency for various ribbon sizes. If you need a tough printer, choose the Titan 6200, the best value printer in its class.
Key Benefits
Includes head pressure adjustment mechanism allowing modification of printhead pressure for a wide quality on greater flexibility and optimum print variety of label products.
Ideal printer for the compliance labeling market.
Features 203 dpi resolution at print speeds of up to 6 inches per second.
Options include internal rewind, present sensor, cutter and peel and present mechanism.
---
Copyright ©1997-2005 Data Identification Systems All Rights Reserved