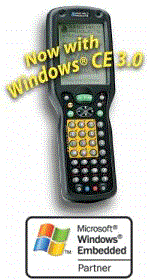 Dolphin 7400 Mobile Computer with Microsoft® Pocket PC
Step into the next generation of portable data collection with the Dolphin ® 7400. The 7400 adds a Microsoft Windows CE ™ operating system to a modular portable hand held computer platform that features 3 choices of keypads, large
quarter-screen display, high-performance Intel ® StrongArm ™ processor, as well as up to 320 MB of memory, and optional touch-screen capability.

The Dolphin 7400 has a rugged design that can withstand multiple 5' drops to concrete and shares similar single-handed use design with the popular Dolphin ® 7200 family of hand helds. Central "scan" and "enter" buttons enable use in left or right hand and a secure hand-shaped grip with integrated elastic hand strap make it easy to use. The 7400 meets varying needs in challenging environments of transportation, logistics, warehousing, delivery and route sales.

Available with a choice of 3 integrated imager options, the Dolphin 7400 reads 1D and 2D symbologies (PDF417, MaxiCode, QR Code and Data Matrix) and lets you record .GIF and .JPEG images of shipping manifests, recipient signatures, and damaged cartons

The 7400 computer uses IQ imaging™, a suite of features unique to matrix imaging technology that includes enhanced signature capture, improved picture taking and superior data capture.
Features
Microsoft® Windows® CE Platform -- Portable convenience with full programming flexibility using Microsoft® eMbedded™ Visual Tools or Java™.
Ergonomic Form Factor -- Facilitates single-handed wireless data collection
IQ Imaging™ with Advanced Linear Decoding (ALD)-
Provides instant point-and-shoot 1D & 2D bar code scanning, captures signatures, and takes pictures.
Microsoft® SQL Server™ CE -- Users can easily extend their SQL Server 2000 enterprise database to frontline workers by running SQL Server CE on the terminal right out of the box.
ALR Laser Scanning Option -- Provides long range scanning.
Rugged Construction - Operates in harsh environments and withstands rough treatment.
Multiple Keyboard Options -- Intuitive, optimized layouts for various applications.
Large 3.8" 1/4 VGA Display with Touch screen Option - Backlit display provides easy viewing in most light ing conditions.
Compact Flash Card Slot -- Provides up to 256 MB of additional memory for data storage.
High Capacity 2700 mAh Battery Pack - Ensures long battery operation time with scan-intensive applications.
Optional Integrated 56K Modem.
Selection of Peripherals and Accessories - Including desktop & vehicle charging/communication cradles, multiple battery chargers and holsters.