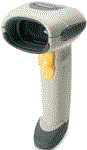 Symbol LS4208 Scanners
Multi-line Rastering for Fast Scanning of Stacked Symbologies
Durable construction for all day, everyday usage.
The Symbol LS4208 handheld laser barcode scanner is able to effortlessly speed throughput, even with barcodes in poor condition. Wherever there's a need to quickly capture and process data - such as at the retail checkout counter, in pharmacies and hospitals, and in light warehouse environments - the ergonomically designed LS4208 scanner helps increase accuracy, improve productivity, cut maintenance costs and reduce downtime. The Symbol LS4208 is not only able to provide next-generation technology today, but can also meet your needs even as they change. The scanner's multiple interfaces (including USB, RS232 and keyboard wedge) and universal cables help connect it to a variety of hosts, allowing easy system updates. And since the LS4208 is designed for the newest and emerging 1D symbologies such as RSS barcodes, it will perform well for all scanning requirements well into the future.
The LS 4208 delivers intuitive functionality that allows even beginning users to handle checkout lines quicker and thus increase the customer satisfaction at the point of sale or efficiently collect data in warehouse and medical environments. The LS 4208 scanner offers multi-line rastering scan pattern allowing the scanning of all types of one-dimensional (1D) bar codes, including damaged symbols or stacked reduced space symbology (RSS) bar codes.

In addition, the LS 4208 offers a 19-inch scanning range with superior motion tolerance that provides greater flexibility to rapidly and accurately capture data without pausing between scans.

Along with a 6-foot drop spec that allows the scanner to keep on running even after dropped repeatedly to concrete, the Symbol LS 4208 offers a single circuit-board construction. By eliminating the failure points commonly found with interconnect ribbon cables, this unique design feature helps to lower your total cost of ownership.