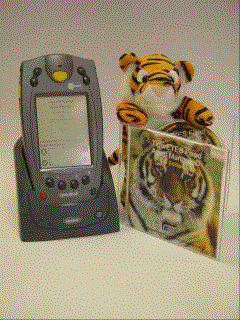 Are you struggling to manage a growing inventory of computer equipment?
Trying to track Laptop Computers - Test Equipment - Medical Equipment - Tools?
Spending too much time trying to find things?
Want to Save Time, Improve Accuracy, Reduce Costs?
You need the #1 Fixed Asset Management Software

in the industry - TigerEYES Fixed Asset Manager©
Request a Free Evaluation Copy Today!
Education - Healthcare - Manufacturing
Get A Handle On Your Assets!
Data ID uses the latest technology and tools to accurately collect and classify fixed asset information for simplified data mining and information/data sharing across your organization. VALIDATED INFORMATION FOR BETTER BUSINESS DECISIONS
Is this your year for a wall-to-wall physical inventory?
Today, managing fixed assets means more than struggling with a multitude of painstaking depreciation calculations and IRS regulations. It also requires accurately tracking the comings and goings of thousands of assets spread around the office or around the world.
What is a Fixed Asset?
Any asset that one can physically touch, hold, or feel. For instance computer equipment, furniture and fixtures, buildings, test equipment, tooling, workstations, and so on.
See the many ways TigerEYES Fixed Asset Manager© Gold Edition's "Powerful Intelligent Reconciliation Tools" will help you!
Reduce physical inventory time by 30 - 50%.
Eliminate the need to "write-it-off."
Reinstate assets that were previously thought lost.
Protection from consequences of having "retired" assets in productive use.

Solid management of the company "valuables" comes with rich rewards for today's savvy organizations. Accurate fixed asset management allows you to make smarter, more proactive decisions about assets. When fixed assets are recognized as the valuable, working resources they are, they maximize cashflow and can help ward off inflated expenses and negative impacts on profit and loss statements.
Data ID Systems' range of asset management solutions provides Finance, IT and Facilities Managers with the most powerful tools to account for, maintain and track fixed assets, inventory and software items across their organizations using one central database. Our software suite - TigerEYES© - provides solutions to organizations managing thousands of assets, down to a few hundred.
Data ID Systems' software and services will help your organization optimize all of its fixed asset requirements, lowering the administrative cost of taking an inventory. With ease of use, quick implementation and the ability to interface with other systems, Data ID Systems' Software offers a complete automated tracking solution. Asset labels are also available from Data ID Systems.
Combine expert customer support with a quality software product that is flexible enough to work with your current needs yet thorough enough to meet future requirements and you have the perfect solution for today's demanding fixed asset tracking needs.
Data ID TigerEYES Fixed Asset Manager© Gold Edition allows users to quickly and easily take inventories and record transfers of assets. We provide a new, easy, and cost-effective solution for managing your fixed assets.
The Data ID TigerEYES Fixed Asset Manager© Gold Edition program is designed to record inventory and transfer transactions. This information is collected on handheld units and stored in a desktop database.
When it's time to take an inventory, Data ID TigerEYES Fixed Asset Manager© Gold Edition makes the task fast and easy -- even for inexperienced users. We combine time tested data collection techniques and critically acclaimed PalmPilot® ease of use in our handheld software.
Combine the two with the one-touch HotSync® mechanism used to transfer data between your desktop and the portable reader for revolutionary ease of use.
Bar Code scanning for asset entry and tracking
Tracks asset historical data
Detects duplicate asset entries
Automated processes reduce data-entry time while improving accuracy.
Time and date stamping of transactions helps increase data accuracy.
Variable security levels allow you to restrict user access to match your security needs.
Easily accessible data allows users to review asset information in the field.
Simple 4-step process to record asset transfers allows users to enter data quickly and efficiently.
Inventory transactions can be recorded in only 2 steps!
Automated data transfer between the desktop database and handheld units keeps data current on both
TigerEYES Fixed Asset Manager© Gold is the affordable fixed asset management system designed with the small business owner in mind. With an intuitive interface, TigerEYES Fixed Asset Manager© Gold is easy to master -- no time consuming or expensive training. System Requirements
Data ID specializes in fixed asset management software and services. Our expert consultants operate worldwide, able to assist in every aspect of fixed asset management. A range of Solutions from the undisputed leader in fixed asset management software.
"I'm a firm Believer of, 'You get what you pay for.' With Data ID Systems, 'You get more than you pay for.' I have the highest regard for your staff at Data ID. Their professional mannerism and technical knowledge helped me set up our Mobil Solution Control System to accurately manage our Electronic Voting Machine Process. Every time I have called or have a question or problem they've gone out of their way to help come up with an answer or solution quickly. TigerEYES Fixed Asset Manager© is a perfect solution for any inventory situation. I've used this system for 2 years now and have only used a portion of its overall dynamic features. I'm looking forward to a long partnership with you and the personnel at Data ID Systems."
- Pedro Martins (Santa Clara County ROV, San Jose, California)
If you are considering a computerized system to help you take control of your inventory management process, Data ID has a system that will meet your needs, is easy to implement and available at a price you can afford!

Developed in Microsoft Access, Data ID TigerEYES Fixed Asset Manager© Gold Edition gives you the flexibility to create reports, produce graphs from the data, perform queries, and export the data to virtually any software. You can make your own modifications and generate customized reports using any of the readily available utilities.
Data ID TigerEYES Fixed Asset Manager© Gold Edition utilizes bar codes to provide accuracy, speed, and ease of use necessary for improved asset control. With the fully integrated software system, you can begin tracking your assets within minutes. Reports are used to print selections of data for purposes of review or to create a paper archive. The Access database ships with twelve reports already created for you. These reports are as follows: